Little Johnny Rutledge made his first trip out of the country this weekend! We went to New Westminster, Canada and Johnny LOVED it. Well, mostly he loved the sky train. He wished we could have taken it home. He also enjoyed the view from our hotel room window where he got to watch tugboats and ships and barges and trains all day long. It was like watching the biggest TV in the world!!!
Here are some photos:
Here is Johnny Dancing on the window sill. He spent alot of time on this window watching the going ons of the city!
Johnny and Gabe posing with the largest tin soldier statue in the world.
(bet you didn't know there was one!!!)
First trip on the sky train...need I say more!
Fire prevention fair at the mall. Johnny wasn't tall enough to stand behind the picture board so daddy had to help him.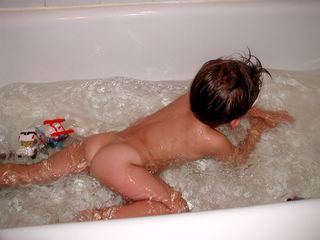 I like to call this photo
"moons over my-hammy"
Playing in the tugboat they had on the waterfront left over from Expo.
(this also provided an excellent opportunity for Gabe to remember when he went to Expo and got separated from his family for a short, panic filled, period and some strange person shoved fake poop in his face. Then when he found them again, they hadn't realized he was missing! We're still wondering why you would actually think to bring fake poop to the world's fair.)
Still playing in the tugboat
Back on the sky train and wishing he could take it home!
I think my favorite comment from Johnny on this trip would have to be
..."Oh Good Mama! I think I got all the soap off my teeth".
Johnny learned a valuable lesson about eating bars of soap!!!
Recently Johnny had a bad cold and we have had to resort to bribing to get him to do some of the less fun cold essentials. Here is a transcript of one such scene:
Daddy:
If you let me suck your nose I will give you a sucker
Johnny:
Why don't you suck the grapes daddy and then give me a sucker
(somehow I don't think the grapes needed the nose sucker)a scene from the kitchen
Johnny:
Can I look in the refrigerator
Daddy:
Only for a quick minute
(daddy shuts door)
Johnny
(yelling)
: THAT'S NOT ENOUGH MINUTES
Mama looking in Johnny's diaper
Johnny:
Don't worry mama, it's just gas...with techron
(i think he's watching too many commercials)